The online dating industry has an endless number of services nowadays, and Latinamericancupid is one of them. It has over 3 million members who're looking for love on the Web. The platform is operated by Cupid Media, one of the leading representatives in the market.
The platform has the following pros:
they offer free and paid options;
a user can choose a standard, golden or premium package;
a user-friendly interface.
Consider the cons, before picking a dating website:
chances that your profile will be blocked are high due to an easy registration process;
no email verification;
no one checks the credibility of profiles;
high package prices.
How It Works
The signing up process isn't complicated at Latin American cupid. A new user can register with the help of his email or Facebook account. If you decide to choose the first variant, it won't take more than 1 minute. They ask to write the name, select gender and age, provide an email address and create a password. Of course, it's very convenient for modern people who want to do everything quickly. But users should consider that this service doesn't have an email verification – chances are they can be easily hacked by scams.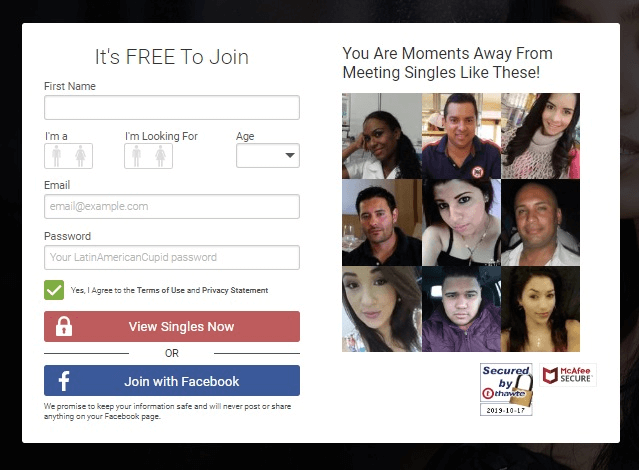 After you're done with the registration, they offer you to upload a photo, implying that you'll get more attention with its help. There are also 2 options – a user can download it from Facebook or choose it on his or her laptop. This process also doesn't take much time. Unfortunately, there are people who don't want to show themselves and cheat fair members. The service doesn't have any verification system for all the profiles, so there's no guarantee that you will communicate with the person you see in a photo.
Latinamericacupid allows a member to add 4 more images that demonstrate your beauty. They provide helpful recommendations in an account. For example, you should add photos showing what a person you are and portraits. However, it's still not safe because a member can select someone's images that have nothing in common with him/her.
Once you've uploaded photos, it's time to tell more about yourself. A profile contains different questions including your country, city, hair length, eye color, body type, lifestyle, children, cultural values, measurement, and other information. This list is rather large, but an unfair member can select any answer and no one will know his or her real background.
Members can send messages to each other, choose favorites, and set filters which help them find people according to particular requests. For example, you can choose the needed country, age of a man or woman, employment status, and so on. It's a helpful option for people who know who they want to find at latincupid.
A member can read the information about another profile by clicking at his/her icon. Profiles are informative because a number of questions lets you tell more about your background. All the details are well-structured and that is why it's convenient to read about the chosen person. But here you aren't protected from unfair details because the service team doesn't check the trustworthiness of profiles.
Audience
The website was designed for Latinos and people who share the same interests or have Hispanic roots. It doesn't matter where you're based – you can register here and look for love in Venezuela, Mexico, Puerto Rico or Ecuador. They have over 3 million members from all over the world, and it's really impressive. Many people are looking for a Latin husband or wife as their beauty is appreciated around the globe. But the website is mostly preferred by men, so it seems like someone will still be left without a sweetheart.
Many Latinas and Latinos strive to find someone from another country or even continent. But it's not the only reason why they become members of this website. According to latinamericancupid reviews, they are looking for people with the same interests, culture, and background.
Pricing
If you want to register, you don't have to pay for it. You're free to choose a free package. A user gets access to basic matching, adds people to favorites, and exchanges messages with men and women who upgraded their profiles.
A golden package costs approximately $ 30 per month, $ 60 per 3 months, and $ 120 per year. A user receives all the standard options and additional benefits of the website. You can send messages to all members, get access to live chat, hide your account, and forget about ads.
A platinum package costs around $ 40 per month, $ 70 per 3 months, and $ 150 per year. A member can essentially upgrade his or her profile. The available features include ranking above other users, VIP account highlighting, improved search process, and advanced algorithms.
Safety
The member's data is stored and protected by SSL encryption, but they don't provide the email verification process. A user can find tips on how to communicate online and recommendation not to send money to people he/she doesn't know. Of course, you should pay attention to this guide in order to avoid many problems. They also offer to verify your profile and communicate only with members who have this icon too. Unfortunately, there's no guarantee that it will protect you from a latinamericancupid scam. Dating websites give many possibilities to people who want to cheat somebody. That's why it's better to be careful.
FAQ
This online dating website gives many options to people who want to find love online. Of course, it has advantages and disadvantages – a new user must be sure this place is what he needs. Consider the following information before you register here.
What is LatinAmericanCupid?
It's an online dating platform designed for people from Latin America. Of course, the main audience is from these countries, but other regions aren't restricted. Users who share the same interests and culture with Latinos and Latinas can freely sign up and communicate with them.
How much does LatinAmericanCupid cost?
They offer standard, golden, and platinum packages. A member can enjoy free options or pay for any offer and upgrade a profile. A golden package costs around $ 30 per month, and a platinum one – $ 40. Prices are rather high and it's possible to find something cheaper on the Web.
Is LatinAmericanCupid legit?
It's a legally registered company that assists members from Latin America and other countries to find a perfect husband or wife. It was established in 2003 and keeps growing. The number of people registered on this website is over 3 million. It's among the largest platforms in the dating industry.
Who owns LatinAmericanCupid?
This dating website is operated by Cupid Media, one of the most successful companies in the dating spheres. They specialize in designing sites for people who aren't afraid to look for their mate online worldwide. Cupid Media was founded 20 years ago, in 1999.
Does LatinAmericanCupid have an online app?
They offer to download a free mobile app. An Android version has the same features as offered on the website. A user can find it on Google Play Store and read any latinamericancupid review. Notice that it's available only for Android 5.0 and up. Unfortunately, there is no an iOS version.
How do I delete my LatinAmericanCupid account?
If you don't want to be a member of this community anymore, you'll easily find the solution. Just enter profile settings and find an appropriate feature. In case you decide to come back, they recommend users to contact their support team.