This Latin Euro review aims to provide you with full information on the dating service. Before getting to the details and describing its work, let's make a list of strong and weak sides of this website.
Pros:
Website is global
Advanced search implemented
Cons:
Too much personal data for registration
You pay for each contact you get
No information about the overall activity on the website or activity of the specified user
No profile verification provided
Poor design both for PC and mobile devices
Too expensive if you stay here for a long time
Complicated registration if comparing with other services
How It Works
The signup process on the latineuro.com is kind of complicated, as on the first page you need to fill in too many fields including your phone number and Zip Code. Talking frankly, the signup process here looks more like collection of private data, not a registration on a dating website, as you need to provide too much information.
After you have completed the signup, you do not get a confirmation letter – actually, that means that on Latineuro, there is a chance to meet many fake accounts. Moreover, when you point out your phone number, it doesn't have to be confirmed, too.
Upon registration, you are redirected to your profile page, where you need to add more information about your appearance, race, marital status and other personal details. You also can add a description if you want to tell more about you to Latineuro girls.
If you were surprised by the amount of information you need to provide when you create a new account, you are surely going to have a question of why do you have to provide your full address as well. However, it is not mandatory so you can leave these fields empty if you want to.
At last, we are coming to the most important part – adding photos. The best way to attract more users is to upload the best of your pictures, where you are alone, and everyone can see your body constitution.
What has to be mentioned about the Latineuro website is that it has a really poor design if you compare it to other dating services. Moreover, there are not many users here, even though the website is global, and you can launch a search all over the world. When you specify the search parameters, you can see the users that fit them, and the way profiles are displayed is executed poorly, too.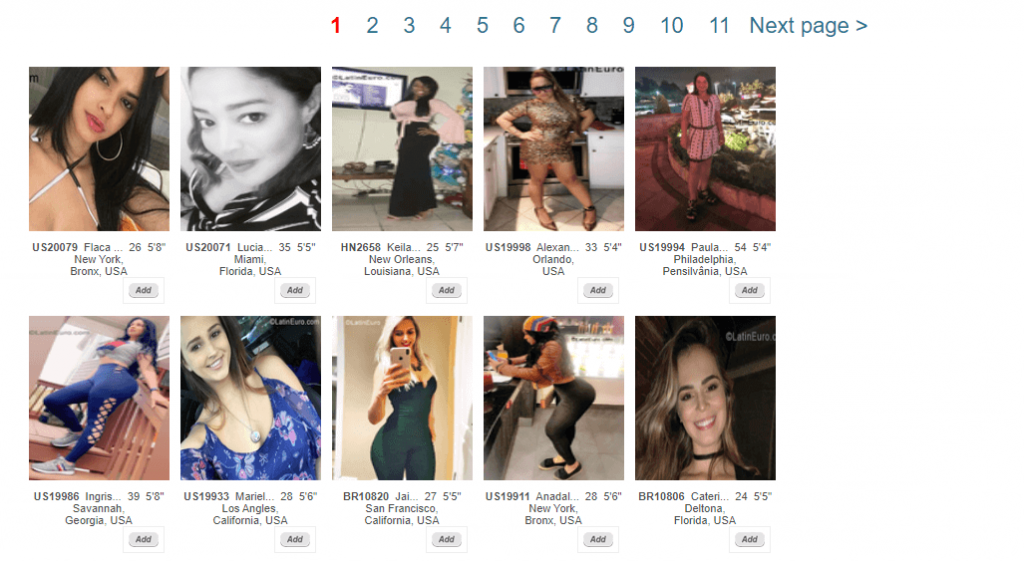 It looks even worse when you launch the website on a mobile device, so if you decide to use this service, you better use your PC.
Unlike the majority of other websites, getting in touch with other users here is a bit complicated. In order to get contacts of the male/female you liked, it is necessary to pay for contacts, and then you will get an access to the user's phone, email and other contact data.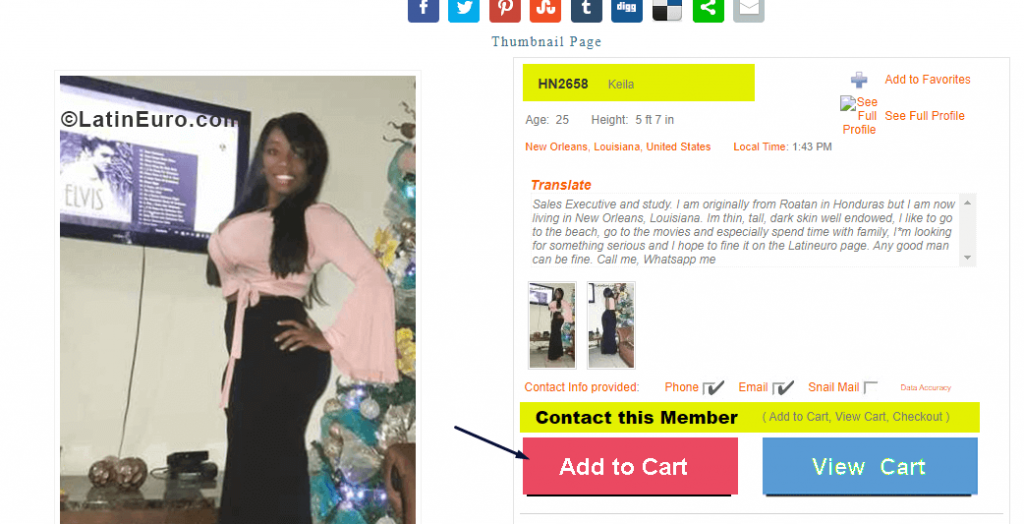 Audience
As far as you can see when starting a search the main audience of the Latin Euro dating service are females from the US and South America, so this website could be a good solution if you are not Europe-based or just want to find a match on the American continent.
The bad thing which is rarely pointed out in Latineuro reviews is the fact that you cannot track who is online here among the profile owners, how many people are online right now, and when did they show their last activity. Thus, it is hard to say how many active users the service has and whether it is worthy to deal with it.
Pricing
On the majority of the dating websites, you can pay monthly or annually for subscription, and get access to all user data provided, or chat without any limits. On this website, you need to pay per each contact you get, and the price per one contact starts from $0.50 and can make up to $2.50.
That means that you just get an opportunity to call, message or write an email to the user you like, and you cannot even be sure that you have purchased contacts of a real person. Such an attitude makes this service rather doubtful.
Safety
It is rather suspicious that you are asked to provide so much personal data here, and we do not know anything about the privacy policy here, except the standard words written in each policy agreement.
Yes, we can see a Safety Dating page here, where you can get acknowledged with the basic recommendations provided by the administration, although it is not enough for such a kind of service.
In addition to that policy the website administration guarantees that your personal data won't be transferred to third parties, it won't be sold and is secured.
FAQ
What is latineuro.com?
It is a dating service for single men and women, that want to find a match mainly in Latin America and the USA.
How much does latineuro.com cost?
On this website, you pay for the number of contacts you have acquired. Contacts are sold in packages, and the pricing policy is disclosed in the picture below.
As you can see, the minimum amount of contacts to purchase makes 10, and you can get them for $25. If you decide to deal with this website, it could be better to purchase a greater badge, so that each contact would be cheaper for you.
Is latineuro.com Legit?
You can legally use this website if you are an adult, mainly more than 18 years old.
Who owns latineuro.com?
The website is owned by LatinEuro Introductions, Inc registered in Miami, USA.
Does latineuro.com have a mobile app?
No, it doesn't, and the website is poorly optimized for mobile devices as well.
How do I delete my latineuro.com account?
You cannot delete an account here on your own, unless you contact the support. You can only make it private, so that no one will see it.