There have been many Mexican Cupid reviews written already that did not disclose the essence and core features of this website. In this review, we are going to provide you with full info on the main functions provided by the website so that you could make a decision on whether to deal with it.
Let's start with a list of pros and cons first.
Pros:
Specified geo-location of singles
User-friendly interface
Easy registration
Cons:
Small user base
Expensive service if only you do not purchase an annual subscription
Limited opportunities for free accounts
No trial period
Complicated verification process
How It Works
The Mexican Cupid dating website provides a fast and easy registration process for all those who want to meet Mexican males and females, no matter where you are. There are no geo-restrictions, and the only condition you need to comply is to be more than 18 years old.
There are two signup options one can choose from – you can either fill in the registration form on the website or use your Facebook account for one-click registration. If you choose the second option, your Facebook account will be bound to your Mexican Cupid account.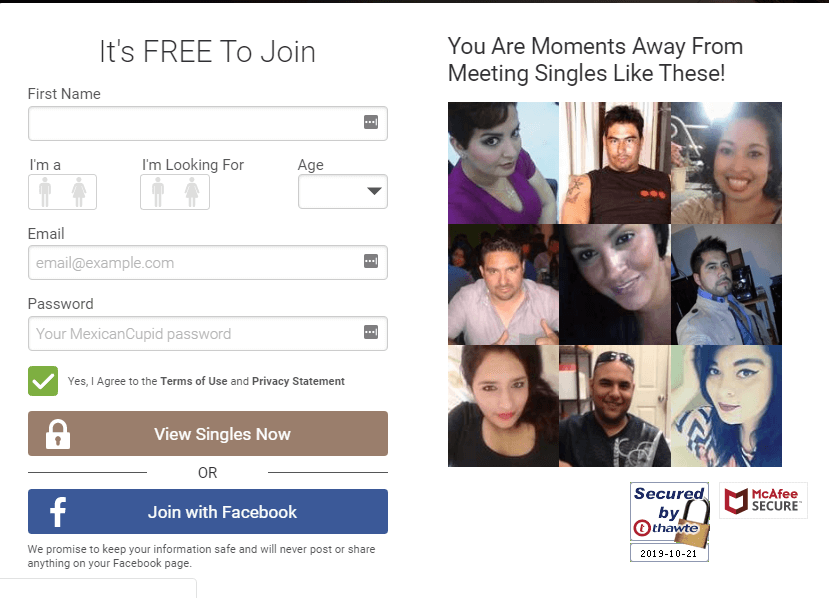 After filling the form, you are going to be redirected to the personal area where you can upload a photo in one click. On this page, you will see users that are interested in you, those who have just viewed your profile or added you to favorites.
Note that making a good photo for your profile is a core to the success on websites like this, so it would be a good idea to find one where other users can see your face in detail, and then upload to your album other photos underlining your good general appearance.
Before adding data to your personal account, you can launch a search and see whether there are enough males/females on the website that fit you. It has to be mentioned that the overall activity on the website is not really high and usually doesn't exceed 500 online users, which is much less than offered by other more popular dating websites.
In case you decide that MexicanCupid is a good place to find a match, you need to fill in your profile so that other users can find out more about you – not only see your image on the photo. You will be offered to start from the general information like your marital status, occupation and your preferences.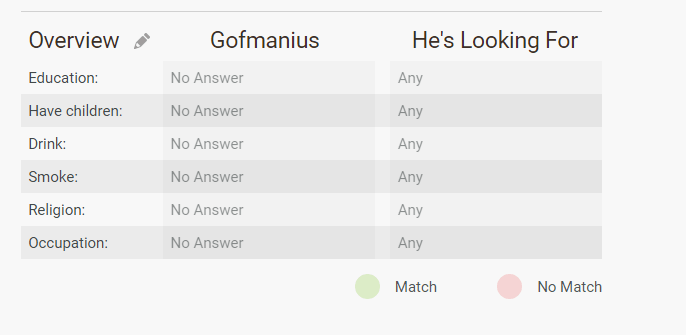 After you fill all the necessary information, which will take something like half an hour, you can verify your account. Account verification is a procedure launched to ensure that your account belongs to a real person, and in order to pass it you need to upload a photo of your personal ID/DL or passport. This option can be used if you think mexicancupid.com can be trusted. Anyway, website administration states that your personal data won't be shared with third parties.
Note that after you pass the registration process, your account will be available not only for the users of this site but to users of all the sites that belong to the Cupid Media network. There are tens of different websites for different regions that share user bases between each other, so if you are ready to be displayed to users from all over the world, Mexican Cupid could be a good option for you.

Audience
As we are providing you with the fair Mexican Cupid review, it has to be mentioned that the audience of this website contains not only males and females from Mexico – here you can find singles from all over the world. Even though the website is global, you won't find many users online here, and you also can hardly track the activity of these users, as mostly there are no more than a couple of hundreds of users online.
Here you will only find users that are older than 18, and there is no top limit to the age, so anyone can sign up to this website.
Pricing
Our Mexicancupid review wouldn't be full without mentioning prices implemented in the service. There are good news and bad news on this topic. At first, the registration on the website is free, however, free accounts have very limited features available, which makes them also useless. So in order to get more opportunities, you need to purchase a paid subscription package.
There are two of them – Gold, which costs up to $29.98 per month and Platinum which can be purchased for the maximum price of $34.99. In case you buy an annual subscription, you can get a great discount for both packages – the Gold package will cost $10 per month while Platinum one – $12.50 per month.
Safety
According to website administration, your private data is protected and won't be transferred or leaked to third parties at any circumstances. It is also pointed out on the website that protection is provided by McAfee antivirus.
For those who are using website services, there are guidelines provided for safe dating, which should be looked through if you want to ensure that your activity on the website won't be harmful or dangerous.
FAQ
What is mexicancupid.com?
It is a dating website which allows you to browse singles in Mexico and other countries. Here you can contact them via website chat, and find matches using complicated algorithms developed by website manufacturers.
How much does mexicancupid.com cost?
You can use the website for free or use paid advanced features. There are two packages – Gold ($28.98) and Platinum ($34.99).
Is mexicancupid.com legit?
Yes, it is.
Who owns mexicancupid.com?
It is owned by Cupid Media registered in Australia.
Does mexicancupid.com have a mobile app?
Yes, you can find the Mexican Cupid mobile app in the Google Play Store. The application is developed only for Android devices.
How do I delete my mexicancupid.com account?
Just go to your profile settings and choose the switch-off account option.